Gun Background Checks and The Brady Act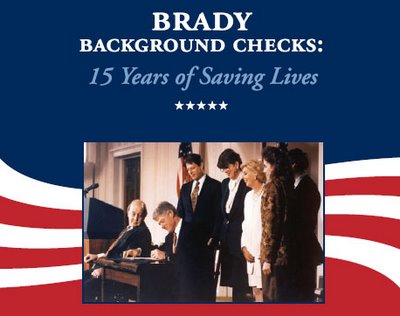 Thanks to his desire to impress a young actress, in March of 1981, John Hinckley attempted to assassinate then President Ronald Reagan using a legally licensed gun he had been able to easily purchase, despite the fact that he had been institutionalized for mental problems several times in the past and had previous firearms related arrests.
Fortunately he did not succeed, but James Brady, Reagan's White House Press Secretary was seriously wounded and remains disabled to this day. Hinckley was found not guilty by reason of insanity.
The Brady Gun Background Check Act was enacted in the former press secretary turned gun control advocates name in 1994, and its major provision is that anyone wishing to purchase a firearm must undergo a gun background check before being allowed to do so. Gun background checks must be performed by anyone selling a firearm in any state in the Union.
A gun background check can be performed most easily by accessing the National Instant Criminal Background Check System, which is run by the Federal Government. The system is available to licensed gun dealers and pawnbrokers seven days a week, and on every day of the year except Christmas and Thanksgiving.
The Brady Bill also clearly established what persons are not to be allowed to purchase a firearm. These are
Convicted Felons or those under indictment for a felony
Known fugitives from justice in any state
Individuals who were dishonorably discharged from military service.
Unlawful drug users and convicted drug addicts or dealers
Individuals who have ever been involuntarily committed to a mental institution or have been legally declared mentally incompetent
Illegal aliens, and those legal aliens who are admitted to the United States on a non immigrant visa, such as a temporary work permit or student visa
A person who has officially renounced their American citizenship.
Persons convicted of misdemeanor domestic violence offences
Someone under certain domestic violence restraining orders
The law requires that a gun background check should use the NICS system to be conducted upon those wishing to purchase both a long rifle and/or hand gun. Once someone has been disallowed from purchasing a firearm based upon the results of a gun background check this information is added to the NICS database so that in the future a gun dealer can see straight away that the person attempting to buy a firearm is not legally entitled to do so.
The penalties for those people who do sell restricted firearms to disqualified individuals have become very harsh since the enactment of the Brady Bill so to expect a reputable dealer to bypass the required gun background check to make a quick sale is unreasonable and unrealistic. The legal penalties are equally harsh for qualified individuals who purchase a firearm that they then provide to an unqualified person, whether money exchanges hands or not.
The need for gun background checks does not extend to all firearms purchases though. Certain private transactions are exempt and a gun classified as a "curio or relic" is also exempt. To be classified as a "curio" the piece must be over fifty years old.
BRADY LAW
STATES IN WHICH THE FBI CONDUCTS NICS CHECKS FOR ALL FIREARMS TRANSACTIONS
| | | |
| --- | --- | --- |
| Alabama | Kentucky | Ohio |
| Alaska | Louisiana | Oklahoma |
| American Samoa | Maine | Puerto Rico |
| Arizona | Massachusetts | Rhode Island |
| Arkansas | Minnesota | South Carolina |
| Delaware | Mississippi | South Dakota |
| District of Columbia | Missouri | Texas |
| Georgia | Montana | Vermont |
| Guam | New Mexico | Virgin Islands |
| Idaho | New York | West Virginia |
| Indiana | North Dakota | Wyoming |
| Kansas | Northern Mariana Island | |
STATES THAT ACT AS THE POINT OF CONTACT (POC) FOR ALL FIREARMS TRANSACTIONS
| | | |
| --- | --- | --- |
| California | Illinois | Tennessee |
| Colorado | Nevada | Utah |
| Connecticut | New Jersey | Virginia |
| Florida | Oregon | |
| Hawaii | Pennsylvania | |
STATES THAT ACT AS A PARTIAL POINT OF CONTACT (POC) FOR NICS CHECKS
Iowa – Permit POC for handguns. FBI for long guns.
Maryland – Maryland State Police for handguns and assault weapons. FBI for long guns and pawn redemptions.
Michigan – Permit POC for handguns. FBI for long guns.
Nebraska – Permit POC for handguns. FBI for long guns.
New Hampshire – New Hampshire Department of Safety for handguns. FBI for long guns.
North Carolina – Permit POC for handguns. FBI for long guns.
Washington – Chief law enforcement officer for handguns. FBI for long guns and pawn redemptions.
Wisconsin – Wisconsin Department of Justice for handguns. FBI for long guns.
The most up-to-date information regarding Point of Contact States can be found on the ATF website at:
http://www.atf.gov/firearms/brady-law/state-lists.html