National Instant Criminal Background Check Process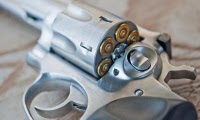 Anyone who wishes to purchase a firearm or an explosive device must first pass the National Instant Background Check System (NICS) in order to complete their purchase. While most firearms dealers still need to place a quick phone call to the NICS toll free number to complete their instant check, computer access is just around the corner.
It is the hope of the National Instant Criminal Background Check System that dealers will simply be able to verify a few facts like the applicant's social security number and the driver's license through a computer database and receive instant feedback on the applicant's eligibility.
The National Instant Criminal Background Check process does not currently take very long, and some anti—violence groups protest to instant background checks taking the place of the seven day waiting period. The right to bear arms group's claim that the instant background check system will prevent violators from being able to purchase firearms more effectively than the seven day waiting period.
There is a concern that the National Instant Criminal Background Check System has failed to attack problems within the gun show industry. In many states the gun show participants are permitted to buy and sell firearms on the spot. On several different occasions, news crews have been able to enter gun shows with hidden cameras and purchase firearms without any form of identification, for a price of course. This has some questioning the value of systems like the National Instant Criminal Background Check System (NICS) if it is not even always necessary to check said systems.
Fortunately for those who are looking for better enforcement of the NICS these issues are being addressed and many gun retailers have found themselves in significant trouble with the law, their gun licenses revoked, and their stock confiscated for selling weapons illegally. While the system is not entirely foolproof as of yet, it is definitely the closest thing the United States has t prevent potentially violent individuals from purchasing guns to perpetrate more violence. It is working better than the seven day waiting period and it is closing the gap between federal guidelines and individual compliance.
At this time most people who are in the denial list are unaware of their status. A great number of people are surprised to find that their first firearm purchase attempt is thwarted by the National Instant Criminal Background Check System. The process for applying is as simple as proving your identity with a photo identification and a social security number. Because the denial list includes individuals with a mental health history, many Americans are appealing their status for seeking out help or for receiving help when they needed it. There is some debate on whether or not an individual assigned to the denial list for mental health reasons should be forced onto the list for life, for a period of a few years, or not at all. While this topic is being debated a higher number of individuals denied access to firearms for mental health issues have appealed their inclusion on this list versus those who are on it for criminal offenses.