FBI NICS E-Check Online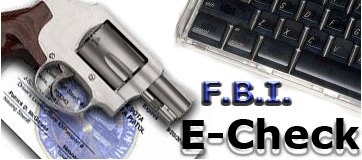 The FBI Instant Criminal Background Check Online Service

The Federal Bureau of Investigation has recently launched its new online gun background check system called the NICS E-Check. It is made available to Federal License Holders buying and selling firearms, explosives, and high caliber weapons.
The service is part of the successful gun control law started by the Brady Gun Control Act, the service is free for FLL holders, and provides instant background checks for gun purchasers with fast notification of approval or denial through high speed searches within the FBI criminal database.
The only requirement is to fill out a form on the site, as well as installing an online certificate within an FLL card holder's computer with which he wants to conduct the searches from. This can be done on any computer system that has access to the internet.
NICS E-Check
This function enables FFLs to initiate an unassisted NICS background check for firearm transfers via the internet. The NICS Section ensured that security was a priority during the development and implementation of the NICS E-Check. The NICS E-Check is monitored 24 hours a day, 7 days per week, for misuse and unauthorized access. In addition, the NICS E-Check denies access to any individual whose identification is not known to the system.
Additional Information
For additional information pertaining to the NICS E-Check or the system's availability in your state, you may contact the NICS Section via 1-877-444-6427 (select option three) or access the NICS E-Check Web site.
NICS E-Check E-mail Address:
echeck@leo.gov
NICS E-Check Web Site:
www.nicsezcheckfbi.gov