Gun Sale Background Checks Increase Dramatically After Batman Massacre

In the three days following the shooting at an Aurora theater during a Batman film, there has been a dramatic increase in total gun sales and gun background checks in the state of Colorado. After friday's massacre, the shooting that resulted in the death of 12 people and the injury of 58 others, 2,887 people were run through a firearm purchase background check, a 43.5% increase compared to the weekend before the incident. During the past decade, this time of year has consistently been the slowest months for gun sales, according to FBI background check databases and data.
"Many people's first reaction is how do I protect myself," a gun store employee said. Apart from the background checks, gun shop workers were met with throngs of people lined up at their shops. Firearms instructors were also met with an increase in applicants for their courses, now booked for weeks after the tragedy.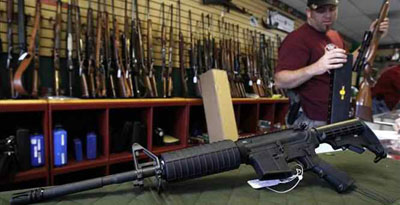 So Colorado residents have decided to fight fire with fire – and the increase in background checks and firearm purchases have made this statement more evident. The background checks are there to weed out certain categories of potential gun purchasers including convicted felons, people convicted of domestic assault or abuse, illegal immigrants, and the mentally ill.
The spike in Colorado gun sales and background checks follow a similar pattern after most mass shootings. Debates over gun laws after such high-profile shootings usually prompt talk of gun control measures, and they have in the Colorado case. But they also can prompt gun sales. Last year, one-day sales in Arizona jumped 60% after a gunman killed six people in a Tucson parking lot and wounded others, including then-U.S. Rep. Gabrielle Giffords. There was also a similar spike after the shootings at Virginia Tech University in 2007.
The FBI declined to release data on background checks nationally since the Colorado shooting, said spokesman Stephen Fischer. State data and interviews elsewhere, however, suggest sales also were up outside of Colorado.